All our professionals at East Lansing Podiatry Associates maintain the highest levels of accreditation and pursue ongoing education to stay abreast of the latest trends in podiatry.
Michael Papson, DPM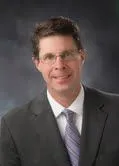 Dr. Michael Papson is a native of Michigan, having been raised in a small town north of Detroit. After receiving his Bachelor of Science degree from the Lyman Briggs School in the College of Natural Science at Michigan State University, Dr. Papson went on to complete his medical education at the William M. Scholl College of Podiatric Medicine in Chicago, Illinois. He received residency training in podiatric medicine and surgery at Mt. Sinai Hospital and Medical Center in Chicago, Illinois.
After completing his medical training, Dr. Papson returned to Michigan to begin practicing medicine in 1998. He is a Diplomate of the American Board of Podiatric Surgery and is Board Certified in foot surgery. In addition, Dr. Papson is a Fellow of the American College of Foot & Ankle Surgeons and a member of the Michigan Podiatric Medical Association and the American Podiatric Medical Association.
Dr. Papson prides himself on his genuine concern for his patients' well-being and health. He and his staff want patients to feel comfortable in the office while offering each patient personalized care. Having provided podiatric care in the Lansing area for over 20 years, Dr. Papson is looking forward to continuing to provide the highest quality of comprehensive foot care to your entire family.